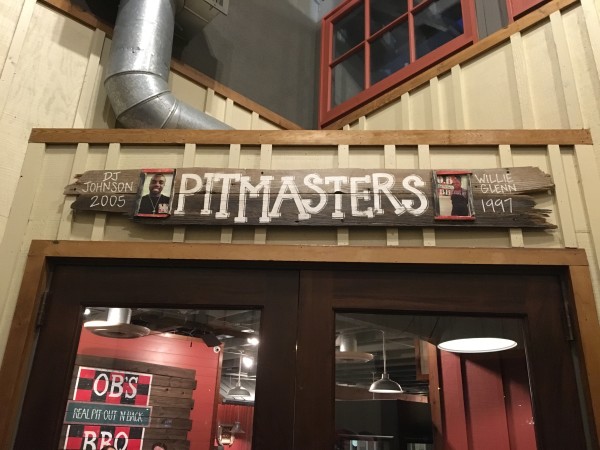 You'll smell the smoky goodness of barbecue long before pulling into OB's parking lot—and your mouth will be watering before you walk through the restaurant's doors. Voted as the #1 best barbecue restaurant in the southeast, OB's BBQ certainly lives up to that title.
Owned by the Duncan family for more than 20 years, they have continued with the original family recipes that have kept customers coming back for more. Smoking all the meats overnight for at least 13 hours in the smoker in the back of the restaurant, Mr. Willie Glenn has been feeding the people of McDonough since 1997. His smoky, tender, fall-apart barbecued pulled pork, brisket, and the memphis-style, or baby-back ribs where the meat falls off the bone is well-worth a visit no matter where you live in the state of Georgia.



So many barbecue restaurants claim they smoke their meats, but it is clear they do not take the time and effort that OB's does with their meats. You can actually taste the smoke on the meat, as well as see the pink smoke rings that only true barbecue connoisseurs can acquire. In addition to their life-changing meats, OB's definitely knows how to use their fryer correctly. Their fried green tomatoes were perfectly fried, with a light batter that wasn't too doughy, and their fried okra was crispy, light and airy, with no grease whatsoever.
If you're not in the mood for fried goodness, their other sides are definitely worth a try, including their macaroni and cheese, which was a perfect melty combination of creamy, cheesy, tangy deliciousness on pasta, and their collard greens tasted just like mama used to make them. If you're not stuffed from gorging yourself with a true southern barbecue dinner, try to save some room for their homemade peach cobbler and vanilla bean ice cream for dessert.
Come experience barbecue perfection for yourself at the Taste of Henry 2016 on April 15, from 6 p.m. to 9 p.m.!  Taste of Henry benefits A Friend's House and will be held at the Jason T. Harper Event Center at Heritage Park. Ticket holders will be able to sample a variety of foods—from main courses, to appetizers, to deserts—from 25 local restaurants and food vendors. In addition to tasting great local food, there will be a competition for People's Choice, Best Presentation, Best Sweets, Kids' Choice and Best Rookie. Purchase your tickets today!