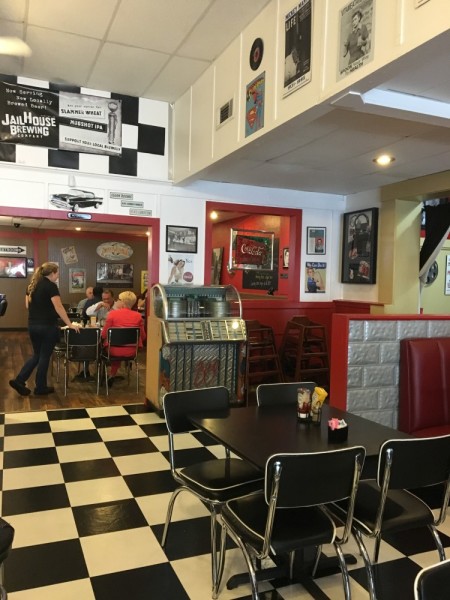 From the vibrant 50s diner decor—complete with checkered floors and bright red walls—to hearing Johnny Cash and Buddy Holly on the old jukebox, customers of KirbyG's on the square will feel as though they've been transported to another era while eating what are arguably the best burgers in Georgia.
Their burgers have been ranked among the top 50 best burgers at the World Food Championships in Las Vegas since 2013, which is when the "Old Blue Eyes Black and Blue Burger" was named the 27th best burger in the world. And it's easy to see why, with the burger's hand-formed patty, spicy mayo, smoky bacon, and creamy texture from the melted monterey jack and blue cheeses.
KirbyG's takes their competitions and their food seriously. The managers and "pit crew" have been trained in Nashville on how to be burger judges in order to help them create the perfect, award winning burgers. The diner even offers weekly "Taste Test Tuesdays" for outside-the-box burger flavor combinations, including a burger that uses two Krispy Kreme doughnuts for hamburger buns.

What began as just an ice cream parlor in 2008, has now been morphed into a unique and delicious dining experience for visitors of the McDonough square. In 2012, the owner Neil Daniel trademarked the name "KirbyG's" in honor of the "father, grandfather, and father-in-law" to the folks at KirbyG's. Kirby was also a former president of Mercer University and a soda jerk during the 50s. The former ice cream parlor now boasts a full menu that features crispy, buttery and tangy fried pickle spears, spicy pimento cheese made from a recipe that's been passed down through the Daniel family for generations, potato chips that are made in-house, and every other diner
favorite you can imagine, including Philly cheesesteaks and grilled chicken, and perfectly crisp and salty french fries.
The staff brings a touch of southern hospitality to the 50s, with friendly and attentive service you'd expect from a family owned restaurant in McDonough. "I love people because I love the Lord," waitress Mrs. Martha says about working in the service industry. Not only does Mrs. Martha love people, but she makes a mean vanilla malt that is
perfection.  
If you're not in the mood for a sweet treat for a drink with your meal, try one of KirbyG's microbrews in an icy cold pint, or a beer flight sampler if you can't pick just one.
Experience KirbyG's one-of-a-kind burgers at Taste of Henry 2016 on April 15, from 6 p.m. to 9 p.m., or at the Atlanta Burger Wars on April 30, from 11 a.m. to 4:30 p.m.
Taste of Henry benefits A Friend's House and will be held at the Jason T. Harper Event Center at Heritage Park. Ticket holders will be able to sample a variety of foods—from main courses, to appetizers, to deserts—from 25 local restaurants and food vendors. In addition to tasting great local food, there will be a competition for People's Choice, Best Presentation, Best Sweets, Kids' Choice and Best Rookie.
This is an event you don't want to miss, so be sure to purchase your tickets today!