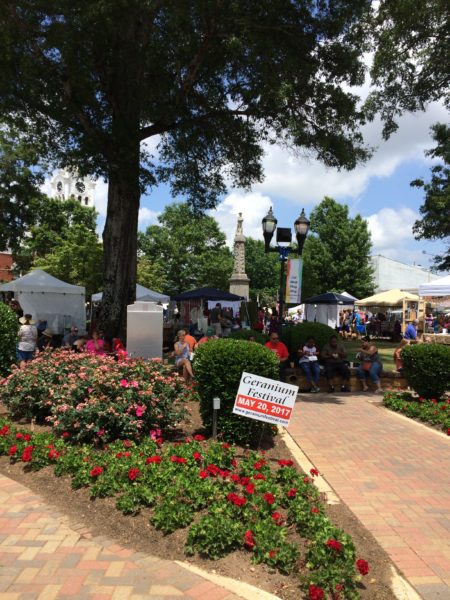 A McDonough tradition for 40 years | written by Emily Paige Skeen
A McDonough tradition for 40 years, the Geranium Festival boasts vendors from all across
Georgia. Each year, crowds of local residents and out-of- towners browse the streets of beautiful
downtown McDonough and beyond to discover homegrown artists, southern-fried treats, and
new friends.
Treasuring Unique Finds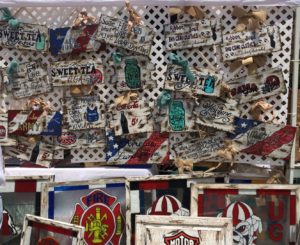 As a Geranium Festival first-timer, I was pleasantly overwhelmed by the sheer volume of items
for sale. Things you can't find in any
store—things that are handmade with the sweat,
blood, and tears of people just like you and me.
Everything from painted wood signs and burlap
art to monkey farts—yes, you read the
right—graced the streets of McDonough last
Saturday. The Geranium Festival is famous for its
abundance of unique items. Because where else
can you find monkey fart-scented candles?  The plethora of home decor was, of course, my favorite part of the festival outing. I love shopping local for my home. I'd rather piece together different handmade items than buy from a retail chain any day. And the Geranium Festival certainly delivered.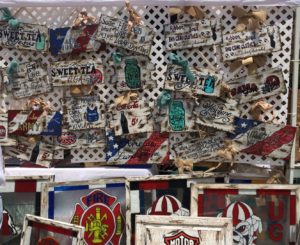 While browsing the numerous tents filled with amazing art and decor pieces, I had the pleasure of speaking with Anne Britt, a former elementary school teacher and first-time Geranium Festival vendor from Warner Robbins. Anne creates beautiful home items with a bit of southern flare—right up my alley.
I simply couldn't leave her Kudzu Collection booth without grabbing something for myself.
I also asked about Anne's experience with the festival, of which she had nothing but positive things to say. She told me the staff had been extremely helpful and she'd been having a great time. Another reason to be proud of this local tradition.

Tasting the South
If you're more into great eats than gorgeous home decor, then the Geranium Festival's got you
covered, too. As I strolled by various food vendors during the festival, the sweet aroma of funnel
cakes and barbeque mingling together wafted over me—the signature scent of a Georgia
summer.
But I found so much more than those traditional dishes. From farm-raised alligator on a stick to
fried Twinkies, there was no shortage of unique southern flavors. In fact, there was so much food
throughout the festival that I could've easily gained five pounds just sampling it all. A few
vendors even offered gluten-free options, in case you prefer to keep it healthy.
By the looks of things, foodies from all over Georgia flock to the Geranium Festival. Robin
Gibbs, the vendor offering alligator on a stick, has been making the trip from Albany to
McDonough to be a part of the festival each year for a decade. She's been in business for 15
years and guarantees you'll simply devour their southern-fried foods.

Experiencing a Sense of Community
Even better than the shopping and the eating was seeing McDonough and surrounding areas
come together to back small businesses and support Georgia schools, churches, and charities.
I observed people laughing and talking with strangers, relaxing on the curb to grab a bite, and
taking a real interest in their community. It showed me that despite our differences, we can
overcome division and be a society of friends. Caring for each other is all it takes.
One organization that's doing exactly that is Southern Grace Hospice. With a passion to improve
end of life care, the healthcare professionals at Southern Grace strive to bring peace and joy to
terminally ill adults and children, as well as their families.
When I spoke with Brittany Hall of Southern Grace, she informed me they're always in need of volunteers. In fact, you could sign up to volunteer right then and there at the festival.  What better way to encourage active involvement in our communities?
Southern Grace Hospice wasn't the only group I noticed making an impact. There were also churches handing out info, schools raising money for student programs, and healthcare providers offering free blood pressure checks.

Making Family Memories
Another incentive to check out the Geranium Festival next year? There really is something for
everyone. I noticed an entire area devoted to kids' activities, from face painting to bounce houses
and more.
It took a heap of self-control on my part to not go running straight to the huge Arctic Plunge
Slide. With no kids tagging along that day, I was forced to stick with observing people and
snapping photos.
The Takeaway
In my opinion, there's a reason hundreds of people fought the sweltering heat and shirt-
drenching humidity last Saturday to experience the Geranium Festival. Delicious food, unique
treasures, kids' activities, a community coming together…all of it
makes for an amazing experience.
Free admission, parking, and shuttling means there's absolutely nothing holding you back from enjoying this exciting event. It was super easy to find free parking and hop on the shuttle bus. I didn't have to wait more than five minutes for a ride coming or going. Even better? The bus was air-conditioned—a much-appreciated amenity after hours in the sun.
If you missed the fun on Saturday, be sure to mark your calendar for next year. Every Georgian should experience the Geranium Festival at least once in his or her lifetime.  It truly is "one of the best festivals in all of Georgia." ~ Emily Paige Skeen
---
McDonough's annual Geranium Festival is held the third Saturday in May in downtown.  If you haven't ever been, put it on your calendar for next year!